The Nu Mou are a race of caninoid beings of Ivalice.
Physionomy
Edit
The Nu Mou are dog-like in appearance, being very squat with elongated faces and tails. Other than that, not much is known about them, as they are a very reserved race, prefering to stay quiet in many situations. The Nu Mou excel in Magick, since their small bodies restrict their physical abilities. However, when Magick won't do, they can also call on the abilities of monsters to help.
Appearances
Edit
The Nu Mou are a people of legends and tradition, passing down many tales, their most well known being the legend of the Espers. Most are found on the sacred Mt Bur-Omisace where, as part of the Kiltia sect, they take care of pilgrims and those wounded by war. The rest are scattered across Ivalice.
Ma'kenroh, who bears a name similar to one of the randomized names in Final Fantasy Tactics Advance, Mackenroe, is the first Nu Mou players will normally encounter, when they visit Montblanc's Clan Centurio in the Royal City of Rabanastre. He can be found standing at the top of the stairs, behind the Viera named Krjn, and will give clues to the location of Vaan's current Mark.
Ma'Kleou waits by the cliff in Nabradia, and gives the player a quest to find three medallions, which will eventually lead to a hidden Esper in the city of Nabudis. As part of this quest, Vaan will meet Roh'Kenmou in the residence of Old Dalan, and Roh'Kenmu, with a nameless associate, in the Magick Shop in Archades.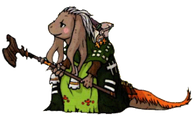 In Final Fantasy Tactics Advance, the game that introduced Nu Mou, they are on the same social level as Humans and Viera. There are only two Nu Mou important to the story: Babus Swain, the personal assistant to Prince Mewt Randell, and Ezel Berbier, the creator of Anti-Laws.
They are the magic users, and unlike the other races, they have no respective physical jobs, though Sages and Beastmasters are adequate in melee battle. They can control monsters with the Beastmaster class, and are the only race to get the Morpher class which lets them use the abilities of monsters in the Cyril Monster Bank.
The Totema of the Nu Mou is Ultima.
"Canine features and long, droopy ears set this race apart. Even-tempered and thoughtful, they possess the capacity for great intellect. Like moogles, they shun water and avoid it to all cost. Though ill-suited for the front lines of battle, they make incomparable mages and weavers of magick."
—Description

In Final Fantasy Tactics A2: Grimoire of the Rift, the Nu Mou are of the same appearance as their counterpart in Tactics Advance. There are nine jobs for the Nu Mou, with two being new ones not in Tactics Advance: Scholar and Arcanist, although Morpher was removed from this game. It's the only race who doesn't have a ranged job.
Nu Mous can be obtained in these locations during Rosefire or Coppersun: